I've done campaigns for Trill Sammy as well:
These are some of our 350+ playlists you can get on👇
I'll get you on playlists to grow your streams. Here are some campaigns we ran 👇
+6,508,072 Streams

One of my favorite campaigns I ran for DJ Diddy.

+216,668 Streams

Ran this Inner Circle campaign for Cyrus Dobre, part of the famous Dobre Brothers.

+5,244,710 Streams

Note: We partially promoted this release and not all streams came from us.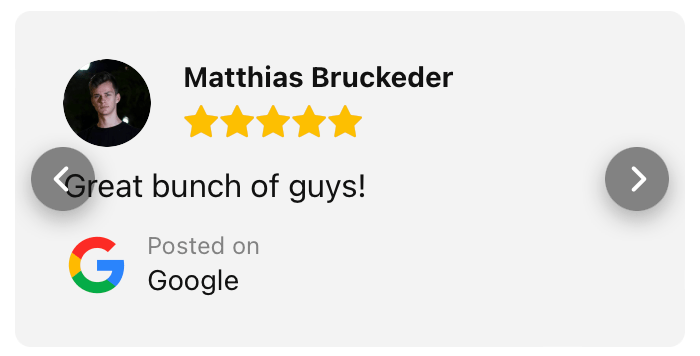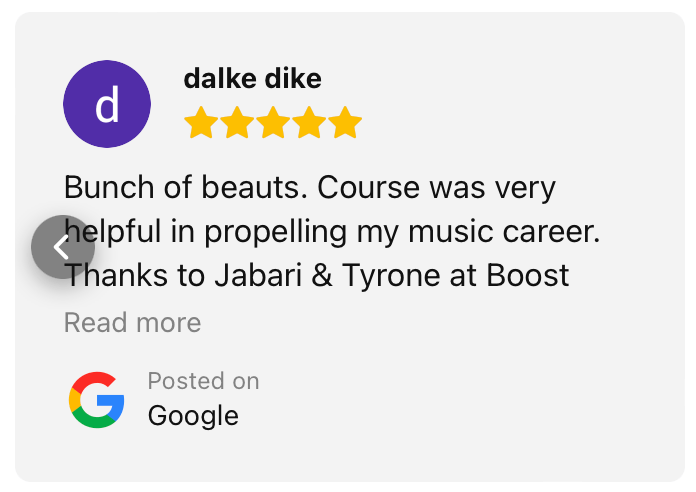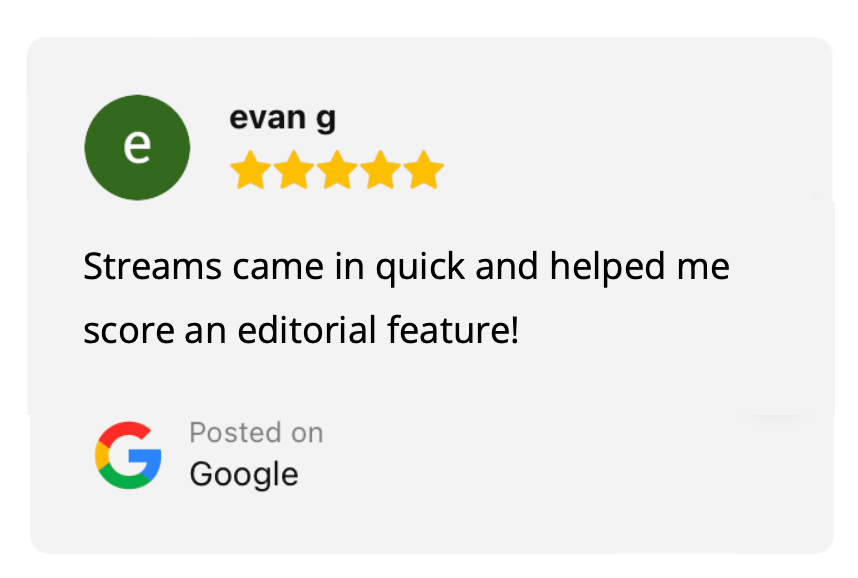 I Guarantee I'll Get You The Promised Streams, or Your Full Money Back.
I stand by my work and ability to get you organic account-wide growth the same way I do for my big clients. If I can't get you the streams within 60 days, you get your money back.
I want to work with talented artists who are willing to invest in their music - if that's you, getting a Boost Collective campaign is your first step to getting your music heard in a big way, guaranteed.
Our Playlisting 2.0 Spotify campaigns follow a special playlisting process that'll maximize your long-term growth in streams and followers. Boost Collective is built for your long-term music success 🚀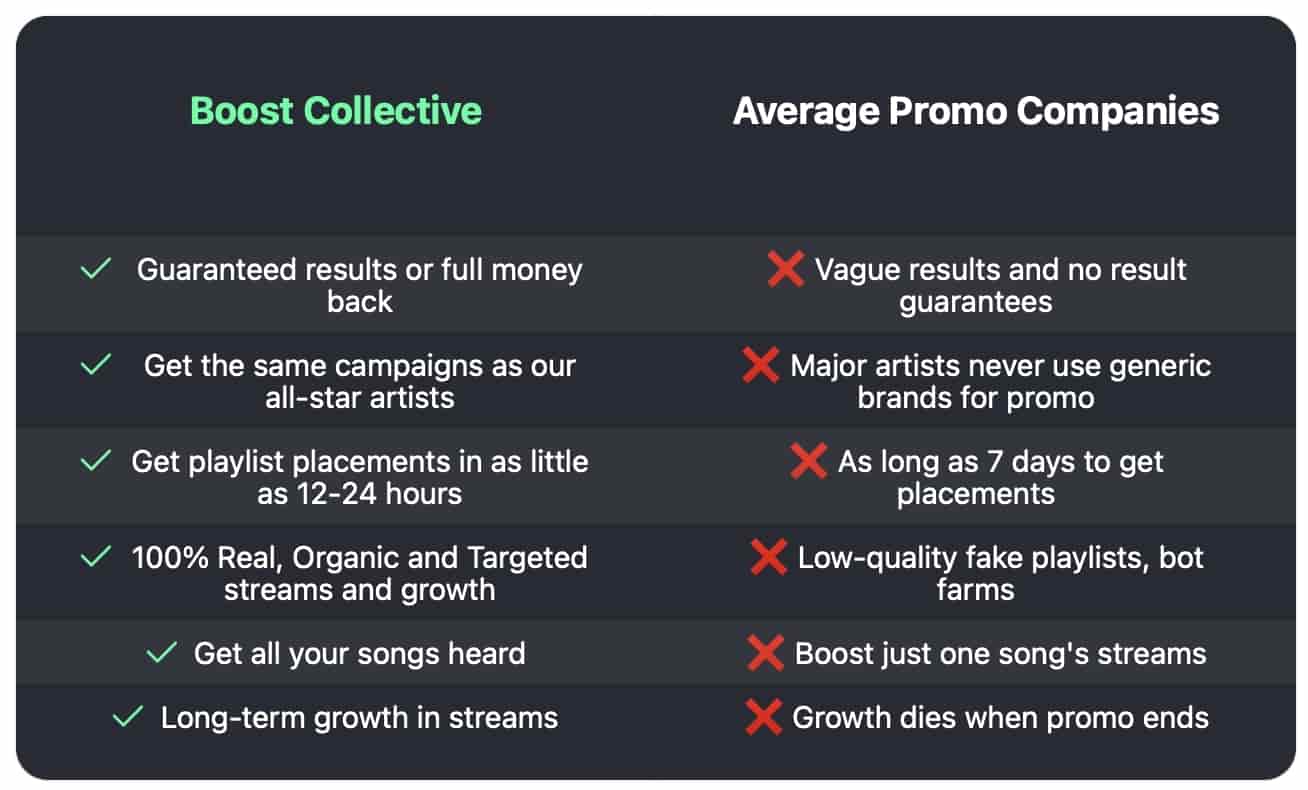 Got Questions?
What playlists will you add my music to?

You can view just some of the playlists on our network here.
How does it work?

Simple! After purchasing, you will receive an email with a form to submit your Spotify links.

We do this so you can begin your campaign(s) on any time, or purchase promotion now to use later at any time!

Upon giving us your Spotify link, your Spotify campaign will begin within 24-48 hours (or 12 hours if you get the Speedy promo).

I will work to add your song(s) to playlists and grow your streams.
Will I Get Bot Plays?

Absolutely NOT! Bot plays ruin your chances on getting on algorithmic playlists and earn you no royalties.

Our promotion is strictly done through playlisting your music on our own Spotify playlists, to get you in front of real people to get you real listeners, fans and streams.

Any campaign you purchase from us will get you 100% real, organic streams.
Do you promote one or multiple songs?

It's up to you. Upon ordering, we'll ask for your Spotify song link, and we promote the song you send us.

We don't stop there, though. We add any other songs you may have on your artist profile to our playlists so that you can see growth on your entire account.

Much better than short-term single-track promos!
What happens after I order?

You'll immediately receive an order confirmation email and your promotion will begin. The processes is quick, easy, and effortless!

If you ordered multiple campaigns, you'll receive an email with a form you can fill out at any time to begin your additional campaigns.
Are stream counts guaranteed?

Every campaign size has an estimate which is in line with past campaigns that we've run. I've worked with many artists across genres, and I know what works.

If for whatever reason I am not able to get you the streams advertised for your campaign, I'll give you your full money back.

PLEASE NOTE: The quality of your song is everything. A quality song will outperform a low quality track any day of the week.

These are real ears listening to your music. The music is the factor that determines whether they stick around!
What genres do you work with?

We are able to promote all major genres and subgenres, from rap to electronic to pop and everything in between.
Do you have a money-back guarantee?

Yes! If for whatever reason I am not able to get you the streams advertised for your campaign, I'll give you your full money back.
Is this supported by Spotify?

Spotify does not support fake streams, that's why I take measures to ensure traffic is organic and genuine. The playlists I feature your song on are either owned by us or close partners that are carefully selected to prevent any fake playlists from being available through Boost Collective.
how do you pick which playlists i'll be added to?

We listen to your song and other songs on your artist profile to see what genre, style and mood your music is.

We then pick the most relevant playlists to add you on - playlists that have your exact genre, mood and style.

This ensures that you're getting in front of an audience of listeners that already love the kind of music you make, increasing your odds at saves, follows and making real fans.
Here's Why You'll See Real Results With Me👇
I've seen a lot of tracks come through. I know what works. 
At the very least, if you don't get a campaign with us, this section should open your mind on how to progress on Spotify in your music career.
Fake streams simply don't feed Spotify with quality data. After all… Bots are lifeless. 
Bots stream songs that are all different genres, languages, energy levels, moods etc… It doesn't actually tell Spotify where your music fits on the platform.
We want to reinforce/feed Spotify with quality data from real people, listening to your music.
Long term, Spotify will know where to place your music using it's A.I. (Algorithmic playlists: artist + song radios, discover weekly etc…)
In other words… We want Spotify to work to get you even more streams long term. But we can't do that without igniting the spark and building momentum.
✅ Get Real, Organic Spotify Streams.
✅ Browse Through and Select The Spotify Playlists You Want.
✅ Royalty Eligible Spotify Streams.
✅ Quality Email Support When You Need It.
Choosing a selection results in a full page refresh.
Opens in a new window.